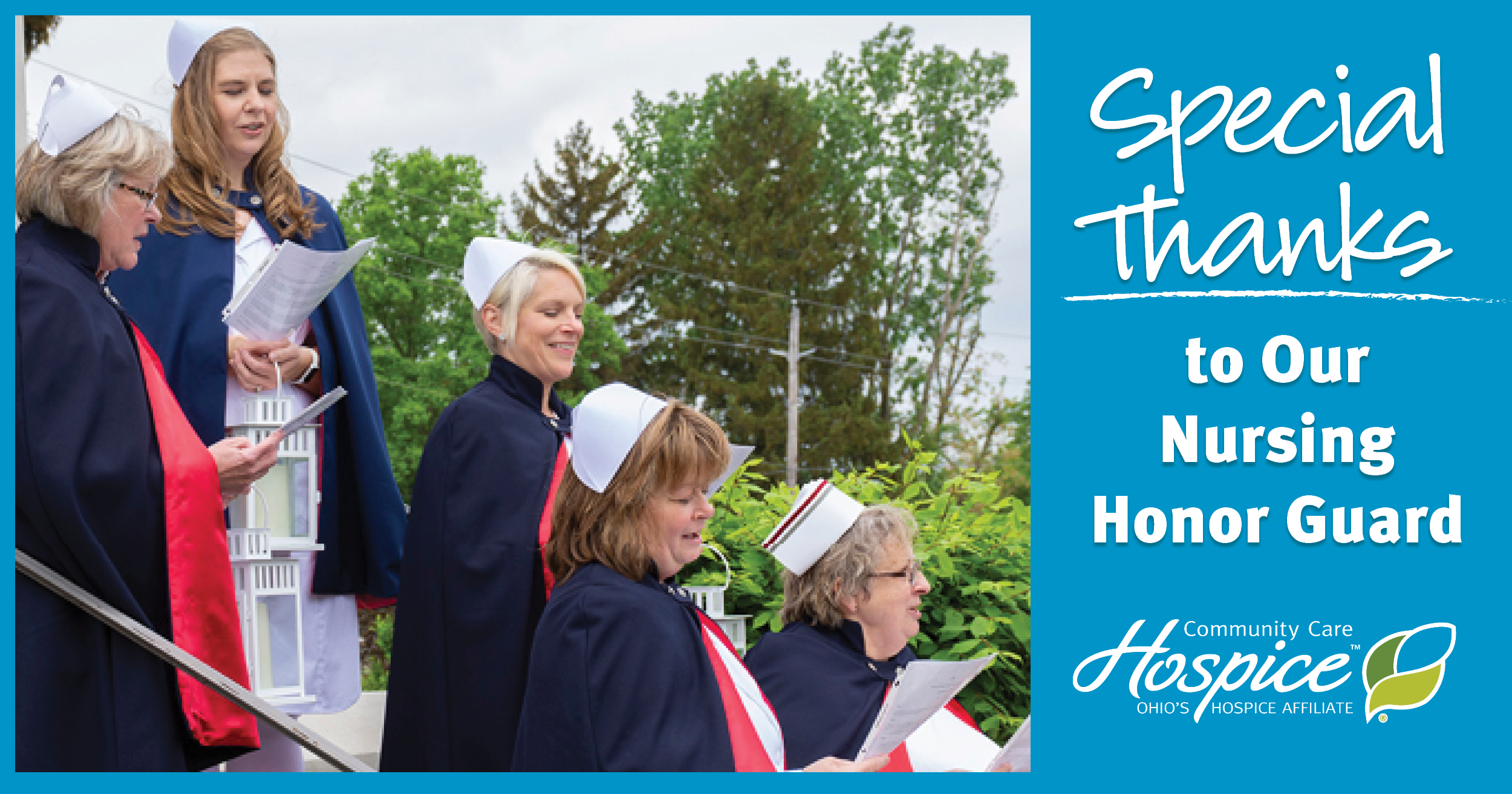 Ohio's Hospice Nursing Honor Guard Recognizes Nurses in Our Care
During National Nurses Month, we recognize our Ohio's Hospice Nursing Honor Guard. The Nursing Honor Guard of Ohio's Hospice honors nurses who are in hospice care with Ohio's Hospice.
The Nursing Honor Guard is made up of Ohio's Hospice nurses who conduct a ceremony at the patient's bedside. Dressed in traditional and historical uniforms comprised of a blue and red cape, white dress and cap, the Nursing Honor Guard recognizes nurses for their commitment to caring and providing compassion to patients.
"Though your nursing tasks are complete, they are not forgotten," the Nursing Honor Guard tells patients during the ceremony. "It is our honor to express our respect for you as a nurse and our gratitude for the care you have given."
The Nursing Honor Guard ceremony highlights a nurse's career and individual achievements. The ceremony also includes the recitation of the Florence Nightingale Pledge, a statement of the ethics and principles of the nursing profession.
"I have witnessed the joy and pride that comes to each nurse honored for their nursing career," said Gail Satterthwaite, RN float. "When we perform the ceremony in our facilities, our residents instantly recognize us as nurses by our white uniforms and caps and capes. It is an honor to be a small part of this service."
Since 2017, the Nursing Honor Guard has performed six ceremonies at the bedside of nurses who are in our care with Community Care Hospice and Ohio's Hospice of Fayette County. Nurses from Ohio's Hospice volunteer to serve in this program. They travel to wherever the patient calls home to acknowledge a patient's many years of service as a nurse.
Due to COVID-19, Community Care Hospice has temporarily postponed the tributes. Our Nursing Honor Guard looks forward to continuing the tributes when it is safe to do so.
Thank you to nurses everywhere for your care and service and to all nurses who make up the Ohio's Hospice Nursing Honor Guard!
If the Ohio's Hospice Nursing Honor Guard can serve your family, please contact your care manager for more information.