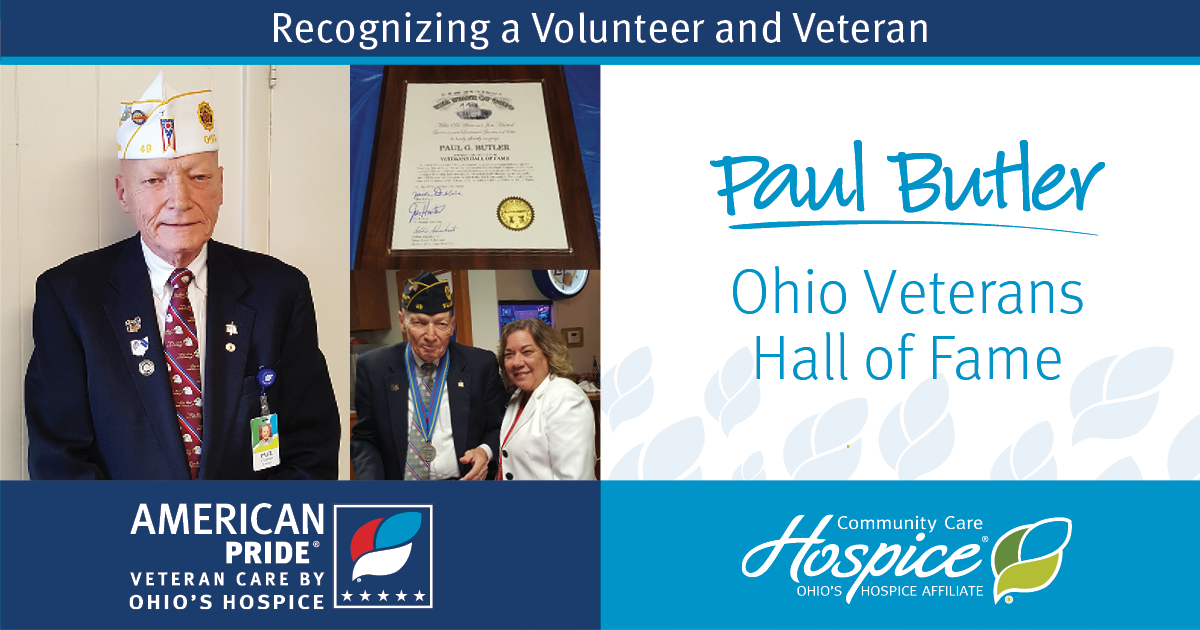 Ohio's Hospice Volunteer Inducted into Ohio Veterans Hall of Fame
Paul Butler, an American Pride® Veteran Care by Ohio's Hospice volunteer since 2015, has been nominated and inducted into the Ohio Veterans Hall of Fame.
Butler served for four years in the U.S. Navy, spending 21 months in Guam as a member of the flight crew, where he flew missions over the South China Sea. He was later assigned to the Naval Air Test Facility in Patuxent, Maryland.
For the past five years, Butler has visited Veterans in the care of Community Care Hospice and Ohio's Hospice of Fayette County through the American Pride program, which honors the service of Veteran patients and assures them of receiving the highest quality of care. In addition to celebrating and thanking Veterans for their service, American Pride assists patients in obtaining access to all the benefits to which Veterans are eligible, provides spiritual support, and addresses individual post-traumatic stress issues.
"As an ordained minister of the Gospel, it is my calling to be there in a spiritual capacity should they desire counseling, pray or just to talk with," Butler said. "I am a chaplain, but I am also a Veteran. To some, that makes a difference."
Butler also attends and conducts Veteran recognition ceremonies. During these ceremonies, Veterans are presented with a certificate, a pin, a lap quilt, and other items expressing gratitude for their military service.
Butler said the nurses and staff at Ohio's Hospice are the greatest people he has had the privilege to associate.
"That alone should be enough. But having the opportunity to visit with and hopefully bring a little joy and restore a little dignity at the end of life is the source of my greatest enjoyment. My favorite moment out of my five-plus years was the time I got to marry a patient and his caregiver – a great story and storybook wedding," Butler said.
Outside of volunteering, Butler is a 50-year member of American Legion Post 49, is involved in the Veterans of Foreign Wars Post 6710 for 30 years, is a Life Member of AMVETS and Disabled American Veterans, and is a past Commander of the Sons of the American Legion Squadron 49.
"Veterans are part of a community that tends to be close-knit. Sometimes Veterans will only open up to another Veteran," Butler said. "When Community Care Hospice presented the Veteran to Veteran Program to the American Legion Post where I belong, I immediately got on board because I saw the special need like they did."
For more information about American Pride® Veteran Care by Ohio's Hospice, visit https://www.ohioshospice.org/american-pride/.
Ohio's Hospice is a partnership of mission-driven, not-for-profit hospices in Ohio committed to a shared vision of strengthening and preserving community-based hospices. Members of Ohio's Hospice share the values of serving each patient in an atmosphere of hospitality, respect and caring; attending to the social, physical and spiritual needs of each person we are privileged to serve; preserving and enhancing patient dignity; celebrating the life of each individual we serve; and reducing unnecessary suffering in the communities we serve.
Affiliates of Ohio's Hospice include: Community Care Hospice, Hospice of Central Ohio, Ohio's Community Mercy Hospice, Ohio's Hospice at United Church Homes, Ohio's Hospice LifeCare, Ohio's Hospice Loving Care, Ohio's Hospice of Butler & Warren Counties, Ohio's Hospice of Dayton, Ohio's Hospice of Fayette County and Ohio's Hospice of Miami County.