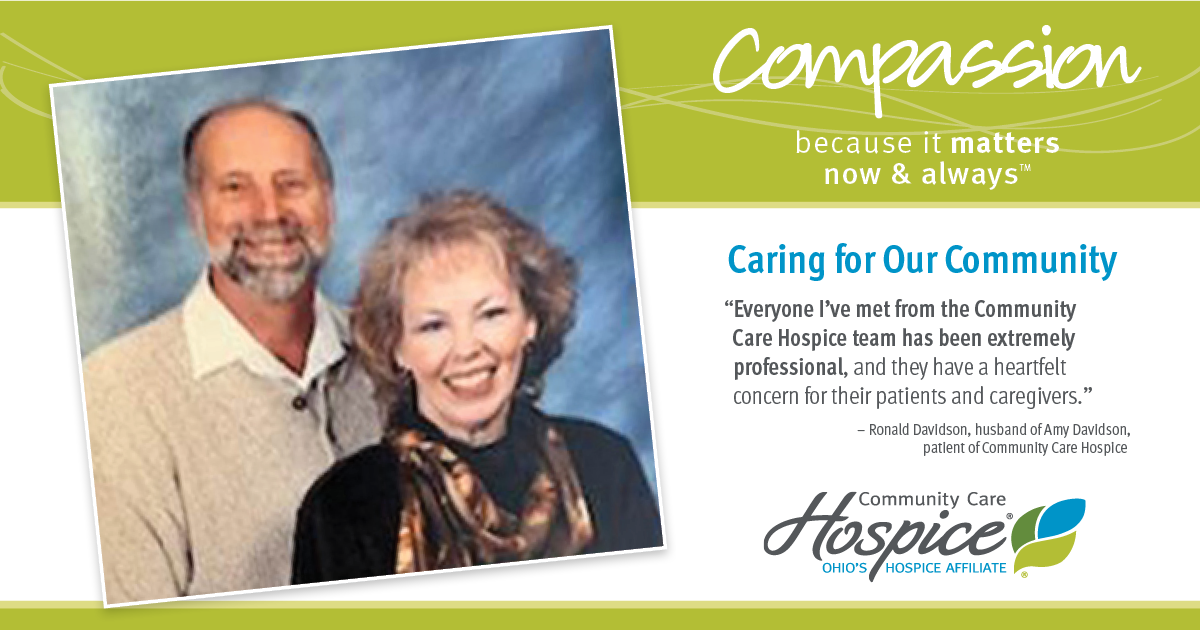 Caring for Our Community: Amy Davidson
Community Care Hospice has been honored and privileged to serve Amy Davidson, a community member who has benefited from superior care and superior services with the not-for-profit hospice. Working with Amy's husband, Ronald Davidson, the care team at Community Care Hospice has developed goals of care, which include keeping Amy home and maintaining her safety due to a history of falls.
"My wife, Amy, has Alzheimer's. Everyone I've met from the Community Care Hospice team has been extremely professional, and they have a heartfelt concern for their patients and caregivers," Ronald Davidson said. "One example is Brandy Laws, my wife's personal care specialist. Amy spends most of her time with her eyes closed and is generally silent and expressionless. When Brandy comes through the door, Amy's face lights up a with a huge smile." 
Community Care Hospice is providing superior care and superior services with visits to Amy from our certified nurse practitioner, nurses and personal care specialists. In addition, we have been able to serve Amy and her family in the following ways:
Community Care Hospice is providing Amy with 24/7 RN on-call assistance. The care team has made more than 1,000 visits to provide care to Amy in her home. They meet with Amy at the family's home, monitor Amy's vitals and her illness progression; keep her comfortable; and make sure that her skin is in good condition.
The care team is providing caregiver support to Amy's family and has educated her caregivers about her illness and its progression.
The care team has placed durable medical equipment in the couple's home and educated her husband on the use of a gait belt. The team also provides Amy with massage therapy for pain.
Our personal care specialist makes morning visits to help with Amy's care. Our hospice chaplains have visited Amy to provide spiritual support. In addition, our social workers have visited Amy and her husband, providing support.
Amy's family is grateful for the help that the not-for-profit hospice provides.
"I don't know what we would do without Community Care Hospice," Ronald Davidson said. "I don't think I could have made it this far without the nurses and personal care specialists, especially Brandy. I can tell that Amy enjoys having her here."
For more information about our services, click here.
Meet Amy Davidson
Amy Davidson was born in Dayton, Ohio, and grew up near Morrow and Lebanon, Ohio. She is a graduate of Little Miami High School. She and her husband have two children, Kim and Dwight. After their children were born, Amy was a homemaker for many years.
She later worked at Thornton's Landscaping as a production manager. She also was a piano teacher who loved teaching piano out of her home. She played for church groups and was passionate about passing on her knowledge to other pianists. She has seven grandchildren and three great-grandchildren.